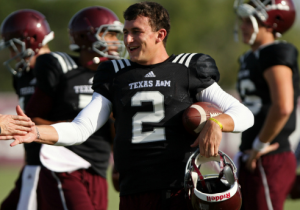 Johnny Manziel has been suspended for the first half of Texas A&M's season opener against Rice for his involvement in an autograph scandal.
'Secondary violation'
According to TexasAgs.com's Billy Liucci, Manziel violated secondary violation bylaw 12.5.2.2 which is called "Use of a Student-Athlete's Name or Picture Without Knowledge or Permission".
ESPN's "Outside the Lines" first discovered that the reigning Heisman Trophy winner had reportedly agreed to sign memorabilia in exchange for payment during a trip to Miami in January to view the BCS National Championship Game.
As per ESPN, Manziel allegedly inked his signature on various items—ranging from photographs to football helmets—after meeting with autograph broker Drew Tieman and was given a flat-rate payment said to be worth somewhere around five figures in exchange for the autographs.
'Vaulted into the spotlight'
Johnny Football directly helped score a ridiculous 47 touchdowns in 2012, and none of the backups on the roster project to have anywhere near the same impact as the sophomore signal-caller.
This suspension caps off a tough offseason for Manziel, who has struggled to deal with his newfound celebrity. After winning the Heisman Trophy last season, he was vaulted into the spotlight and has stayed there.
Do you approve of the half-game suspension of Johnny Manziel? Do you think this suspension will propel him to be a better football player when he comes back?
Source: Alex Kay | Bleacher Report
Image: CBS Sports