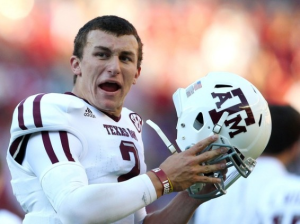 Texas A&M's Johnny Manziel just can't seem to stay out of the limelight.
'Beer and insults'
The Heisman Trophy-winning quarterback apparently stopped by a frat party at the University of Texas last night and was not-so-politely asked to leave by a few of the party-goers, who threw beer and insults at him.
According to one Twitter user, Manziel was enjoying a Keystone Light in his pink polo shirt some time before the beer-throwing and kicking-out began.
'Eventful offseason'
From Curry Shoff (@CurryShoff) : "A keystone light?! C'mon! You're Johnmy Freaking Football! Step up your game. pic.twitter.com/QQ2i92eNsJ"
This is yet another talking point on Johnny Football's eventful offseason. Hat tip to The Big Lead on the find.
And with the number of sports controversies being posted about these athletes, the Internet might not survive. But talking about Johnny Manziel, do you think this kicking-out from the frat party was well justified, or was there a bit of overreaction from the party-goers? How do you think will this affect Manziel's football career?
Share your thoughts and insights with us here via the comment box below!
Source : Tristan Thornburgh | Bleacher Report
Image: Tha Cover 2