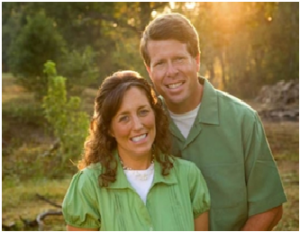 The Duggars were given heartbreaking news on Thursday. According to People, during a routine check-up where Jim Bob and Michelle were supposed to find out the sex of their 20th child, their doctor was unable to find the baby's heartbeat. Michelle was told that she had miscarried in her second trimester.
Jim Bob also released a statement confirming the tragic news to Access Hollywood , saying, "Earlier today at a routine doctor's appointment, Michelle and I received the sad news that we lost the baby. Michelle is resting comfortably at home with the support of the entire family. We are grateful for all the thoughts and prayers, but ask for privacy during this difficult time."
The Duggar matriarch said they will still name the baby after they find out of it was a boy or a girl and they plan to hold a funeral service.
This is Michelle's second miscarriage. She previously lost a baby during her second pregnancy, when she was reportedly taking oral birth control. According to the mag, this incident caused the couple to let the number of children they have be "up to God."
In addition to their youngest daughter, Josie, who was born in December 2009, the couple is also parents to Joshua, 23 (who has two children, Mackynzie, 2, and Michael, 4 months, with wife Anna, 23), twins Jana and John-David, 21; Jill, 20; Jessa, 19; Jinger, 17; Joseph, 16; Josiah, 15; Joy-Anna, 14; twins Jedidiah and Jeremiah, 12; Jason, 11; James, 10; Justin, 8; Jackson, 7; Johanna, 6; Jennifer, 4; and Jordyn, 3.
Source: Yahoo! News
Image: Dailystab.com