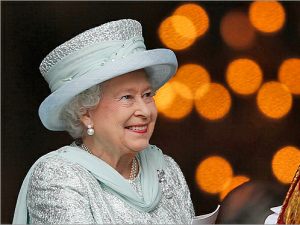 The Queen has called her Diamond Jubilee "a humbling experience", saying she had been "touched deeply" by seeing so many people celebrating together. In a message to the nation, she thanked all those who organised the events.
Festivities culminated in an appearance by the senior royals on the Buckingham Palace balcony in front of huge crowds to watch an RAF flypast. But the Queen's consort, Prince Philip, was absent from her side as he remains in hospital with a bladder infection. The Earl and Countess of Wessex visited the Duke of Edinburgh on Tuesday afternoon. Afterwards, Prince Edward said: "He's feeling better." The countess added: "He's in good spirits; he's on good form."
The Queen's message was broadcast on television and radio across the UK and Commonwealth:
"The events that I have attended to mark my Diamond Jubilee have been a humbling experience," she said. "It has touched me deeply to see so many thousands of families, neighbours and friends celebrating together in such a happy atmosphere… But Prince Philip and I want to take this opportunity to offer our special thanks and appreciation to all those who have had a hand in organising these Jubilee celebrations.
She added: "I hope that memories of all this year's happy events will brighten our lives for many years to come… I will continue to treasure and draw inspiration from the countless kindnesses shown to me in this country and throughout the Commonwealth. Thank you all."
On Sunday, about a thousand boats took part in the Diamond Jubilee Thames River Pageant, the first of its kind for 350 years.
What do you admire most about the Queen's character? Share to us how she has inspired you!
Source: BBC News
Image: Boston Globe