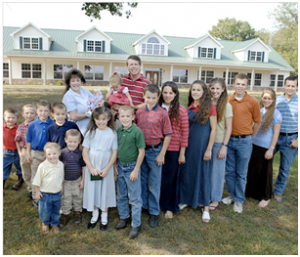 Even grief is exceptional in the Duggar family, as there are so many children to console. Michelle Duggar, who miscarried her 20th child this week, says she is comforting the little ones – and being comforted herself by her older kids and her husband.
It's not just the younger kids who need solace. Jill, 20, who is studying to be a midwife and had been charting the baby's growth and heartbeat, has had a particularly hard time.
"She was crying and weeping last night," Michelle said Wednesday at a service for Jubilee. "I hugged her and said, 'I am holding on, and I am going to let the tears go. We can pray, cry and grieve together in the weeks and days we walk through this.' "
But Michelle has been able to lean on her children, too. "My older girls have been precious to make Momma take care of Momma right now, and Jim Bob has been busy taking care of everything," she says.
Michelle adds that despite their loss, the family plans to celebrate all their December birthdays – Josie turned 2 on Dec. 10, Jordyn turns 3 on Dec. 18, Jinger turns 18 on Dec. 21, and the twins Jedidiah and Jeremiah turn 13 on Dec. 30.
Source: People.com
Image: Babble.com