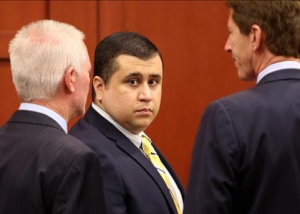 The Justice Department was running into immediate hurdles Monday in its investigation of possible civil rights violations by George Zimmerman in the shooting death of Trayvon Martin — namely, that after examining the case for more than a year, the evidence has not changed.
'Racial bias'
Though the department announced after Zimmerman's acquittal that it would consider a possible federal case, previously filed FBI documents show agents have not turned up any accounts that Zimmerman, before the February 2012 shooting, exhibited racial bias.
Attorney General Eric Holder, in his first post-verdict comments, confirmed Monday during a speech in Washington, D.C., that his department continues to investigate while signaling concern for the position of the Martin family and those — such as the NAACP — pressuring the DOJ. Holder even appeared to suggest the possibility of bias in this case, saying it's important to address "underlying attitudes, mistaken beliefs and stereotypes that serve as the basis for these too common incidents."
'Number one challenge'
But Florida defense attorney Brian Tannebaum told FoxNews.com that the "number one challenge" for DOJ is the evidence, or lack thereof.
Still, the Justice Department agreed to requests from NAACP President Benjamin Todd Jealous and several lawmakers to keep investigating the defendant. The department is under heavy pressure from some groups to pursue the case further.
Was racial bias evident in George Zimmerman's case? Feel free to share your thoughts on this issue!
Source: Fox News
Image: Guardian Express