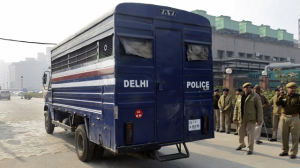 A suspect in the abduction, rape and murder of a student in the Indian capital, Delhi, has been found dead in prison, his lawyer has confirmed. Police say Ram Singh hanged himself in Tihar jail, Delhi, although defence lawyers have questioned this. Ram Singh was one of five men being held in the case. They all deny the charges.
'Hanged himself'
Tihar jail spokesman Sunil Gupta told the BBC that an inquiry had been ordered into the incident. He said Ram Singh's body would be taken for a post mortem examination later on Monday. Mr Singh's death comes as a huge embarrassment for the authorities who are already under enormous pressure over the case, the BBC's Sanjoy Majumder reports from Delhi.
The website of Indian news channel NDTV, quoting jail officials, said Ram Singh had hanged himself at around 05:00 local time on Monday (23:30 GMT Sunday). Another defence lawyer in the case told the BBC that he had met Ram Singh on Friday during a court hearing and found him in a "happy state of mind".
'Death sentence'
Ram Singh and the four other adult defendants – his brother Mukesh, Pawan Gupta, Vinay Sharma and Akshay Thakur – have been on trial in a fast-track court. They face 13 charges, including murder, gang-rape, kidnapping and destruction of evidence. If found guilty they face the death sentence. The maximum sentence the juvenile would face if convicted would be three years in a reform facility.
The 23-year-old rape victim, who was not named for legal reasons, was with a male friend when she was attacked on a bus and thrown from the vehicle. She died in a Singapore hospital on 29 December from massive internal injuries. Ram Singh was accused of being the driver of the bus.
Do you think justice for the gang rape victim will be served properly? Do you think the remaining suspects will get the death sentence?
Source: BBC News
Image: WYCB