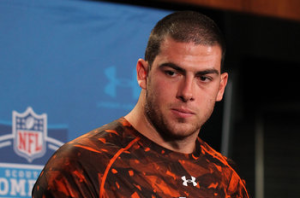 The Kansas City Chiefs have decided on the left tackle they'll take with the No. 1 overall pick. It's just not the man most expected heading into NFL draft week. As Ian Rapoport of the NFL Network tweets, the Chiefs have taken Central Michigan's Eric Fisher.
'Top-pick momentum'
For months Texas A&M product Luke Joeckel had been expected to shake commissioner Roger Goodell's hand first on Thursday. Joeckel, an All-American who helped spur Johnny Manziel's Heisman trophy run, was viewed largely as a can't-miss prospect. His collegiate pedigree and ability to step in and start immediately made him look like the perfect fit for the Chiefs, who have made moves to compete in 2013 all offseason.
However, Fisher's top-pick momentum slowly built over the process and reached a crescendo over the past 24 to 48 hours. Listed at 6'7″ and 306 pounds, Fisher spent his entire collegiate career demoralizing opposing edge-rushers at Central Michigan. Though the level of competition is a question, Fisher's quick burst off the line and commitment to staying low through his blocks made many feel his potential was higher than Joeckel's.
'Quickly overtaking'
As the hours waned prior to Thursday night's festivities, more and more reports came pouring in that Fisher was quickly overtaking Joeckel on Kansas City's board.
Which tackle position Fisher plays in 2013 remains up in the air. While he will eventually shift over to the left tackle spot, incumbent left tackle Branden Albert's future with the Chiefs remains to be determined. Albert has been the subject of trade rumors (h/t Yahoo! Sports' Jason Cole) in the pre-draft process, but nothing is cemented at this time.
Were you surprised that the Kansas City Chiefs picked Eric Fisher instead of Luke Joeckel as No. 1? Good choice or bad choice?
Source: Tyler Conway, Bleacher Report
Image: SB Nation