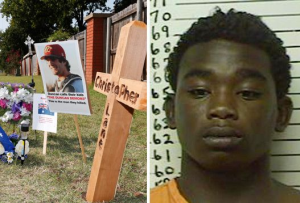 One of the Oklahoma teenagers accused of killing 23-year-old Australian baseball player Christopher Lane previously posted images online showing himself posing with guns and wads of cash.
'White ppl are nasty'
And three days before what police call the indiscriminate shooting, the suspect, 15-year-old James Edwards Jr., tweeted, "With my n****s when it's time to start taken life's" — a line from the Chief Keef rap song, "I Don't Like."

Back in April, he tweeted, "90% of white ppl (people) are nasty. #HATE THEM."
Police in the town of Duncan have charged Edwards and Chancey Luna, 16, as adults with first degree felony murder, said Kaylee Chandler, a Stephens County court clerk. Michael Jones, their alleged 17-year-old driver, faces two charges: use of a vehicle in the discharge of a weapon and accessory after the fact to murder in the first degree. A judge set bond at $1 million for Jones and no bond for Edwards and Luna, Chandler said.
'We were bored'
Police say it was Jones who ultimately told them, "We were bored and didn't have anything to do, so we decided to kill somebody."
The seemingly senseless killing has left many Americans disgusted. And for some, it triggered a political question with racial overtones in the wake of the polarizing Trayvon Martin case, in which an unarmed black teen was killed by a neighborhood watch volunteer who claimed self-defense. The acquittal of George Zimmerman, who describes himself as Hispanic, infuriated many people and triggered protests around the country, as well as remarks from President Barack Obama.
Now, some Americans are asking why this killing, in which the victim was white and the alleged killers black, has not brought reaction from the president.
Do you think the senseless shooting of Christopher Lane was fueled by racism? Are the parents of the teen suspects at fault here?
Source: Randi Kaye, Hilary Whiteman and Josh Levs | CNN
Image: Fox News