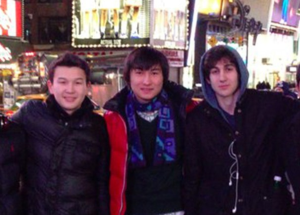 Dias Kadyrbayev and Azamat Tazhayakova both 19-year-old natives of Kazakhstan and friends of Dzhokhar Tsarnaev at UMass-Dartmouth, allegedly went to Tsarnaev's dorm and took a laptop, the backpack and some Vaseline that may have been used in making the deadly pressure cooker bombs that killed three and injured more than 200 at the Boston Marathon. Police believe the bombs were packed with shrapnel and gunpowder removed from fireworks.
'Materially false statements'
Robel Phillipos, of Cambridge, Mass., also 19, was charged with willfully making materially false statements to federal law enforcement officials during a terrorism investigation.
The three acted on April 18, three days after the bombing and hours after investigators aired surveillance footage identifying Tsarnaev and his older brother Tamerlan as the suspects in the bombing, though not by name, according to authorities. Phillipos first saw footage depicting Dzhokhar Tsarnaev on the news Thursday, and told Kadyrbayev over the phone that he suspected their friend was the bomber.
'Chilling response'
When Kadyrbayev later texted Tsarnaev and said he bore a resemblance to the subject of an intense manhunt, Tsarnaev allegedly sent back a chilling response: "Lol, You better not text me." He also texted Kadyrbayev to say, "Come to my room and take whatever you want," according to the affidavit.
Although the three new suspects initially appear to have stonewalled authorities, Phillipos came clean in a fourth interview, conducted April 26. He confessed that the three took the backpack out of their friend's dorm room, according to the affidavit. Phillipos allegedly told investigators that the two others "started to freak out" after seeing Tsarnaev identified on television.
Kadyrbayev and Tazhayakov face maximum sentences of five years in prison and fines of $250,000. Phillipos, a U.S. citizen, faces a maximum sentence of eight years in prison and a $250,000 fine.
Do you think the Boston Bombing suspect's friends covered up for him on purpose? Or did they just "freak out"?
Source: Fox News
Image: The Washington Post