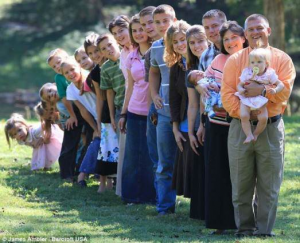 Having 19 kids – and willing to welcome more – isn't just a Duggar thing any more.  Meet Gil and Kelly Bates of Lake City, Tenn., who had their 19th child – a boy, weighing in at 7 lbs., 8 oz., named Jeb Colton – on Feb. 1.
The Bates family has known Jim Bob and Michelle Duggar for decades and has even appeared with the Duggars on their TLC show 19 Kids and Counting, which returns for season 6 on Tuesday (9 p.m. ET). Now, the Bates family will have their own show, a one-hour special airing March 27 on TLC after the 19 Kids and Counting season finale.
In addition to new baby Jeb, all the Bates kids live at home: Zach, 23; Michaella, 22; Erin, 20; Lawson, 19; Nathan, 18; Alyssa, 17; Tori,16; Trace, 15; Carlin, 13; Josie, 12; Katie, 11; Jackson, 9; Warden, 8; Isaiah, 7; Addallee, 5; Ellie, 4; Callie, 2 and Judson, 1.
"It is very exciting, and we're nervous, too," admits Kelly, 45, of the prospect of having their family life televised for millions to see. "Our biggest desire is to be real. The Duggars have helped people. We talked it over with the children, and everyone likes the idea of helping others. It is not wonderful all the time. We have the same struggles everyone has."
The Bates both say that when they married 25 years ago, they anticipated having a "normal family" with "two or three kids," but that didn't happen. Three months into their marriage, they were pregnant with Zach. "We decided to trust God for children," Gil says. "And I would not trade His choices for mine any day."
Source: People Magazine
Image: Gil Bates Family