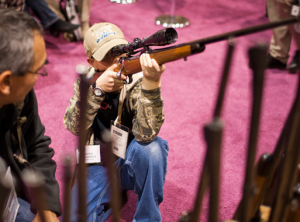 A Kentucky mother stepped outside of her home just for a few minutes, but it was long enough for her 5-year-old son to accidentally shoot and kill his 2-year-old sister with the .22-caliber rifle he got for his birthday, state officials said.
'Guns at an early age'
The shooting in southern Kentucky has been ruled an accident, Kentucky State Police Trooper Billy Gregory said. Young children in the area are often introduced to guns at an early age, Gregory said.
On Wednesday, state police were still investigating toddler Caroline Sparks' death, CNN affiliate WLEX reported. Her family kept the Crickett rifle in what they considered to be a safe spot, Cumberland County Coroner Gary White told the CNN affiliate. The boy was playing with it Tuesday when it accidentally went off and killed his sister, White said.
'Rifle models for kids'
The Crickett website features three .22-caliber rifle models for kids, with shoulder stock colors ranging from pink to red, white and blue swirls. "My first rifle" is the company's slogan. Family members Wednesday described the shooting as an accident.
Caroline Sparks' death comes after two other incidents in recent months involving young children shooting others. In early April, a 4-year-old boy in Tennessee shot and killed a 48-year-old woman, and just days later, 6-year-old Brandon Holt was killed in New Jersey after being shot in the head by his 4-year-old playmate.
Were the parents at fault in the fatal shooting accident? How young is "too young" when it comes to handling firearms?
Source: Leigh Remizowski, CNN
Image: RT