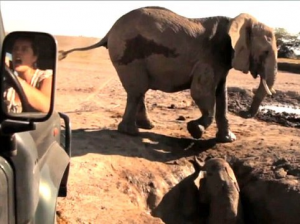 A baby stuck in a well. A frantic mother crazed with worry for her offspring. Anyone could relate, but these very human emotions came from the bond of an elephant baby and her mother. And a video capturing the rescued calf has captivated the Web.
'Too deep to climb out'
Just your typical day in Amboseli National Park in Kenya, where a team of elephant conservationists from the Amboseli Trust for Elephants received a call about a baby stuck in a five-foot hole dug by Masai tribesmen. They raced to the site of the accident.
The baby was fine, but the hole was too deep for the eight-month-old calf to climb out. And the mother was unable to help. To complicate matters, the mother thought the rescuers were a threat, and almost sat on the Land Rover. The driver, Dr. Vicki Fishlock, resident scientist of the elephant trust, recognized the mother, Zombe, from a mark on her ear.
'A happy ending'
The scientist scared her away with a high-pitched yell and maneuvered around her, as two men managed to get rope around the baby. By attaching the line to an SUV and putting the vehicle into reverse, they were able to pull the elephant calf out. A happy ending, but especially rewarding because the video captures the baby's sprint to its mother's side.
The rescue is a reminder of the challenges faced by humans and elephants that share the land. Without the rescue, the elephant would have died in the well, causing conflict with the Masai. Fishlock added, " We are delighted by the web response to our video, and we hope it persuades people that elephants are special and deserve to be protected and cherished."
Did the story and the video of this baby elephant's rescue bring tears to your eyes? Feel free to share your thoughts with us!
Image: BBC News