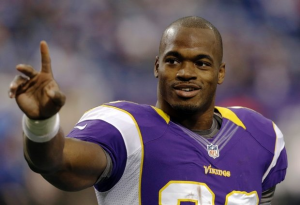 Considering gay marriage is such a polarizing topic in modern American society, it's not surprising that the media asked NFL MVP Adrian Peterson for his opinion on the matter. His answer may surprise you. The Minnesota Vikings running back simply doesn't believe in same-sex marriage.
'Not with it'
According to Kevin Cusick of the Pioneer Press, Peterson appeared on Sirius/XM NFL satellite radio last Thursday with Amani Toomer and Bruce Murray, who asked Peterson if he felt the Vikings cut Chris Kluwe, their former punter, for his vocal support of gay marriage.
In his response, Peterson denied that there was any underlying reason for Kluwe's departure but did not support his stance on gay rights:
To each his own. I'm not with it. But I have relatives that, you know, are gay. I'm not biased towards them. I still treat them the same. I love them. But again, I'm not with that. That's not something that I believe in. But to each his own.
'Different'
Regardless of his difference of opinion, Peterson was sad to see Kluwe go and felt that he was a smart person whose company he enjoyed immensely:
"It hurt me to see him leave. He was a good friend of mine and a really cool guy, man. Probably one of the smartest guys I've ever been around, man…different."
Same-sex marriage will likely be a hot-button issue that gets brought up for years to come. Peterson isn't the first athlete to speak on the matter, and he will not be the last.
How about you — are you "with" gay marriage or not? Feel free to throw in your opinion here!
Source: Alex Kay, Bleacher Report
Image: Trending Players