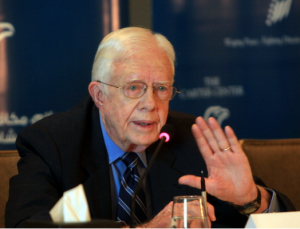 A former U.S. president is accusing the current president of sanctioning the "widespread abuse of human rights" by authorizing drone strikes to kill suspected terrorists.
Jimmy Carter, America's 39th president, denounced the Obama administration for "clearly violating" 10 of the 30 articles of the Universal Declaration of Human Rights, writing in a New York Times op-ed on Monday that the "United States is abandoning its role as the global champion of human rights."
While the total number of attacks from unmanned aircraft, or drones, and the resulting casualties are murky, the New America Foundation estimates that in Pakistan alone 265 drone strikes have been executed since January 2009 . Those strikes have killed at least 1,488 people, at least 1,343 of them considered militants, the foundation estimates based on news reports and other sources.
In addition to the drone strikes, Carter criticized the current president for keeping the Guantanamo Bay detention center open, where prisoners "have been tortured by waterboarding more than 100 times or intimidated with semiautomatic weapons, power drills or threats to sexually assault their mothers." He also condemned recent legislation that gives the president the power to detain suspected terrorists indefinitely, although a federal judge blocked the law from taking effect for any suspects not affiliated with the September 11 terrorist attacks.
While Carter never mentioned Obama by name, he called out "our government" and "the highest authorities in Washington," and urged "concerned citizens" to "persuade Washington to reverse course and regain moral leadership."
Do you agree with Jimmy Carter's opinions about U.S. violating human rights? What steps should be taken to curb this?
Image: Current