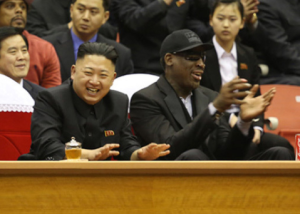 In his first interview since returning to the U.S. from an unprecedented visit to North Korea last week, former NBA star Dennis Rodman said he bears a message for President Obama from the country's oppressive leader, Kim Jong Un.
'Call him'
"He wants Obama to do one thing: Call him," Rodman told ABC's George Stephanopoulos on "This Week." "He said, 'If you can, Dennis – I don't want [to] do war. I don't want to do war.' He said that to me."

The athlete also offered Kim some diplomatic advice for potential future talks with President Obama: "[Kim] loves basketball. And I said the same thing, I said, 'Obama loves basketball.' Let's start there," Rodman said.
Rodman's comments come just days after the basketball star shocked the world with an unexpected trip to Pyongyang, North Korea, becoming the first known American to publicly meet with the mysterious Kim since he assumed command of the totalitarian nation after the death of his father, Kim Jong-Il in 2011. Rodman likely now has more firsthand impressions of Kim than any other American. He offered some insight to Kim's personality this morning.
'Friend for life'
"He loves power. He loves control," Rodman said, of his new "friend." "But guess what? He doesn't want war. That's one thing he doesn't want."
Rodman traveled through Pyongyang with members of the Harlem Globetrotters basketball team and a camera crew from the upcoming HBO series, "VICE." Kim warmly welcomed the Americans, with an itinerary that included ice skating, an aquarium visit and a long dinner and drinks.
During his visit, Rodman sat court side with Kim as they took in an exhibition basketball face-off with the Globetrotters and North Korean players. Kim, like his late father, is said to be a devoted basketball fan – especially for the 1990's-era Chicago Bulls championship teams, which included Rodman. Rodman stood up to give a speech to the basketball crowd, at one point telling Kim, "You have a friend for life."
Do you think Dennis Rodman's mission for "basketball diplomacy" was successful? Could basketball help bring together the U.S. and North Korea?
Source: Kari Rea, ABC Otus News, Yahoo News
Image: CBS News