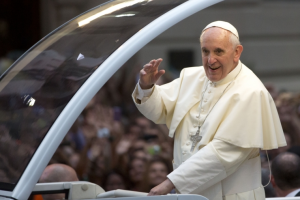 The press conference on Pope Francis' plane traveling from Brazil back to the Vatican was fascinating. But, unfortunately, if you were reading the headlines from some media outlets, you would have learned just one thing. As the Huffington Post put it: "Breakthrough: Pope OK with Gays." This is the worst coverage of a religious story I have seen to date.
'Homosexual priests'
What Pope Francis really said, in response to a reporter's question about homosexual priests who are living a celibate life was this:
"If someone is gay and he searches for the Lord and has good will, who am I to judge?"
'Deserve the same kindness'
Pope Francis simply and compassionately reiterated Biblical teaching. The Bible and the Catholic Church have never taught that it is a "sin" to be homosexual.  They teach it is a sin to have homosexual sex because it goes against the laws of God's nature, specifically his plan for human sexuality.
When Pope Francis says "who am I to judge" he is saying—and I think we need to hear more of this from religious leaders—that active homosexuals deserve the same kindness, love, and mercy that all of us sinners would hope to receive from God and from others.  We don't make judgments about anyone's personal worth—God has already done that when he created us out of love.
What is your reaction to this explanation? And what is your opinion regarding Pope Francis' statement about gays?
Source: Fr. Jonathan Morris | Fox News
Image: Christian Today