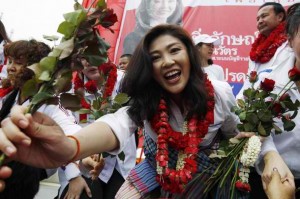 Bangkok, Thailand. Ousted Prime Minister Thaksin Shinawatra's baby sister is set to become Thailand's first female prime minister.
The weekend vote paves the way for 44-year-old Yingluck Shinawatra, who has never held public office, to become the kingdom of Thailand's first female Prime Minister.
Her Puea Thai party has won a clear majority with 263 seats out of 500, is way ahead of the ruling Democrats holding only 161. With the majority of the votes now counted, it is almost assured that Shinawatra will be swept into power.
The Election Commission, estimated a voter turnout of 74 per cent, which is a clear indication of the support for change in the Thai parliament.
Thailand has been plagued by political division ever since the former prime minister  Thaksin was ousted in coup in 2006. His loyal political supporters and bitter enemies have fought for power in parliament and on the streets.
Last year, Thailand was thrown into chaos when the Thaksin red-shirt supporters demonstrated and laid siege to parts of the capital, Bangkok.  The King eventually sent in the army to put down the increasingly confrontational and damaging protest, which ultimately resulted in more than 90 people dead
Yingluck Shinawatra's faces huge challenges now by trying to reassure those who doubt her abilities and question whether she is more than a mere proxy for her brother Thaksin.
Incumbent prime minister Abhisit Veijajiva said in an interview after the results were clear "It is now clear from the election results so far that the Puea Thai party has won the election, and the Democrat party concedes defeat. I would like to congratulate the Puea Thai party for the right to form a government,"
Abhisit Vejjajiva, focused his campaign on a warning – that a vote for Yingluck was a vote for Thaksin, and that negative tactic appears to have clearly backfired now.
The other major factor in this murky political arena is the military. The army chief, Prayuth Chan-ocha, says there will be no more coups. He says "We will respect the will of the people and no longer interfere in the political process. However, they have said that before, but reneged when they felt it necessary.
Many Thai women now see Yingluck's victory as a big step forward for women in a country where they have struggled for equal representation in government for many years.
Local shopkeeper Areerak Saelim, 42-year-old said "I've always wanted to have a first lady prime minister, I've seen too many men failing to run the country. Maybe this time, things will be different. What women are – and men aren't – is meticulous. I'm pretty sure she can do the job based on her age and successful career."
Others question whether Yingluck was, in fact, her own woman and not be a puppet to the party machine and her older brother Thaksin and his smouldering political ambitions.