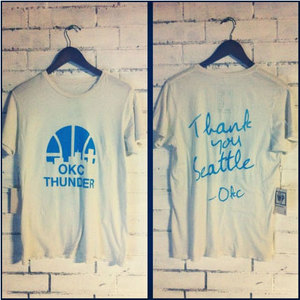 Apparent death threats were sent the way of Warpaint Clothing, the company that humorlessly put the Lakers and Thunder duds together in a shirt — utilizing the former Seattle SuperSonics logo along the way. As a result, Warpaint has decided to stop selling the shirts because of death threats sent its way in reaction.
Warpaint, through its Twitter feed, didn't exactly acquit itself well in attempting to defend the shirts it decided to print. From KIRO TV:
A few hours later, the company seemed to take a more conciliatory tone: "So much hate in the world. No disrespect meant. We appreciate where our team came from actually. Put your energy into something positive."

And later: "We r (sic) saying thank you for such a great organization. We truly appreciate and respect the city of sea (sic)."

Finally, the company said it was dropping the shirt from its website: "After receiving death threats we have decided to take the shirt down offline. Sorry if we offended you Seattle."
The shrugged shoulder approach doesn't work, here.
This doesn't fall directly in line with Miami Heat fans snarkily "thanking" Detroit Pistons backers for giving them the chance to draft Dwyane Wade, or your grandfather "thanking" his brother-in-law from Chicago because his Cubs sent Lou Brock down to St. Louis. This was an entire team that left town, and four years removed, the former Seattle SuperSonics have gone from amongst the worst in the West to a championship contender. This hurts an entire community on a far greater level than your typical, "sporting" taunt.
Death threats? Pretty stupid, Some Dudes From Seattle. This T-shirt? Pretty awful, Some Dudes From Oklahoma City. This can be the end of this particular strain of tactlessness, right? Share your comments with us!
Source: Yahoo News
Image: My Northwest