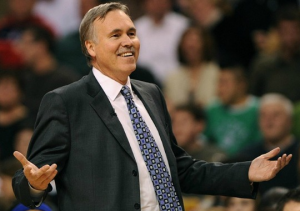 In a surprising turnabout, the Los Angeles Lakers hired Mike D'Antoni as coach late Sunday, passing on another reunion with Phil Jackson, D'Antoni's agent told Yahoo! Sports.
'Transition'
The decision came late Sunday, one day after Lakers officials met with Jackson to discuss the possibility of him becoming the franchise's coach a third time. Jackson, league sources said, was seeking greater personnel control, a relaxed travel schedule and a two-year contract that would pay him at least $10 million a season.
D'Antoni, 61, signed a four-year contract with the Lakers, said his agent, Warren LeGarie. He recently underwent knee surgery and is awaiting his doctors' clearance as to when he can travel from New York to Los Angeles. Bernie Bickerstaff, who has overseen the Lakers the past two games since Mike Brown was fired, could help ease the transition to D'Antoni. In the middle of a six-game homestand, the Lakers next play Tuesday against the San Antonio Spurs. They are then off until Friday when they face the Phoenix Suns.
'Seven-seconds-or-less'
D'Antoni's hiring reunites him with All-Star point guard Steve Nash, who signed with the Lakers in the offseason and has been recently sidelined by a leg injury. D'Antoni coached Nash in Phoenix, where they won at least 50 games for four consecutive seasons and advanced to the Western Conference finals in 2005 and '06. D'Antoni left the Suns after the 2007-08 season and was quickly hired to coach the New York Knicks. He went 121-167 in three-plus seasons with the Knicks before resigning on March 14 of last season.
D'Antoni's hiring came two days after the Lakers fired Brown following four losses in the team's first five games. D'Antoni's up-tempo, "seven-seconds-or-less" offense made the Suns one of the NBA's most entertaining – and prolific – teams.
Do you think the Lakers made a good move when they fired Mike Brown and hired Mike D'Antoni? Will the Lakers win their next game?
Source: Yahoo Sports
Image: Complex Sports