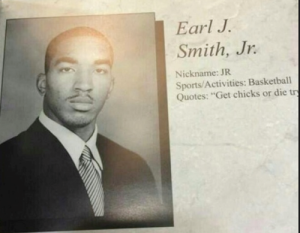 J.R. Smith's yearbook quote is better than your yearbook quote. In fact, it's better than anything you may have ever written, spoken or thought of. Terez Owens brings us an image that, while not surprising, is utterly fascinating. It's the alleged yearbook image and quotation from one Mr. Earl J. Smith Jr.
'Get chicks or die trying'
The quote, as best we can see, is "Get chicks or die trying," although it gets cut off at "try." I think we know enough of the Knicks star to extrapolate the rest.
There really couldn't be a better time to unearth such a slice of literary history. Smith is coming off a tremendous Game 2 against the Celtics Tuesday night, scoring 19 points and dropping this first-quarter buzzer beater. It's times like these when you have to debate whether the shot or the celebration was the better part of the magical moment.
'Something truly epic'
As for quotes, you could go one of two ways with high school yearbooks: using words from a dead author so you could seem wise beyond your pimple-infested years, or you could drop something truly epic. From posting inappropriate pictures to asking pipe questions, Smith has lived by the credo he decided to write down all those years ago.
What do you think of J.R. Smith's High School yearbook quote — like or gripe? Feel free to share your own yearbook statements with us!
Source: Gabe Zaldivar, Bleacher Report
Image: Hoops Vibe