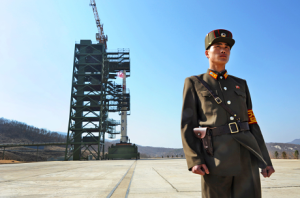 Recently, the headlines have been screaming about North Korea's ballistic and nuclear bomb tests, including its string of threats aimed at South Korea, the United States, and its allies. As each day is finished, everyone thinks that a thermo-nuclear war will soon erupt in the Korean Peninsula. So, what should the U.S. do about this?
'Lending a helping hand'
Should the U.S. wait and see if North Korea will really fire its missiles? Should we observe if the missiles are headed for open water? Or, if not, should we gear up to take down those missiles?
Just this week, word has spread that North Korea has begun to move additional missiles and rockets into firing position. They have also been stocking up on ammunition and moving towards the DMZ. And do you know who helped move missile batteries and tank units along the North Korean border since the 1950's? Guess who? China. Yes, this big guy has been lending a helping hand to a growing nuclear state.
'Your move now'
So now, it is time for some action. The Obama administration has made the first few steps towards a solution to the North Korean military crisis. The U.S. has decided to reopen a missile field and deployed sea based radar to detect missile launches. We just have to deploy more ship and missile interceptors just in case Kim Jong Un decides to carry out his outrageous threats of missile attacks.
But there is one more thing that we can still do. Maybe it's time for us to urge China to act, since this country has been enabling North Korea during its journey towards a nuclear state wannabe. If only the whole world can join hands and shout, "China, your move now!"
Is China to be blamed for the North Korean military crisis now? Do you think a nuclear war will soon erupt in the Korean Peninsula?
Image: The New Yorker