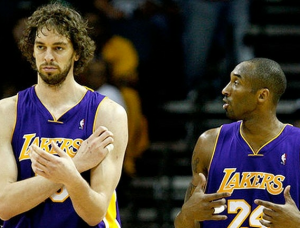 The Los Angeles Lakers trudged off the Staples Center floor late Saturday, a single loss now separating them from season's end, another fourth-quarter collapse once again causing their undoing. They didn't show much poise in the locker room, either, with Kobe Bryant and Andrew Bynum pointing blame at others for allowing the Oklahoma City Thunder to steal their second victory in three games.
Bryant missed eight of his 10 shots in the final quarter, but shrugged off his struggles by saying his teammates' lack of aggressiveness "forced" him to take tough shots. He also left no question which teammate deserved the most blame for the 103-100 loss in Game 4. Bryant faulted Gasol for not playing aggressive enough. It was also Gasol's turnover that led to Kevin Durant making the winning 3-pointer with 13.7 seconds left.
Gasol totaled just 10 points and five rebounds in Game 4. Most recently, Bryant criticized both Gasol and Andrew Bynum after a listless performance in a Game 6 loss to the Denver Nuggets in the first round. Gasol responded with 23 points and 17 rebounds in the Lakers' clinching Game 7 victory.
"It's one play, one mistake," Gasol said. "There were a lot of mistakes in that fourth quarter, a lot of mistakes throughout the game. So, obviously, if I could have gone back, maybe I could have shot it and I would have. It's one play, obviously, at a critical time, but I don't feel like we lost the game because of one turnover."
Team Harmony these Lakers are not. They've allowed their season to dangerously slip away, and now head to OKC looking for answers: "Every single one of us played a part [in the losses]," World Peace said. "Every single one of us needs to go to OKC and get back on track."
Do you agree with Metta World Peace? Tell us what you think of the Lakers' performance!
Source: Yahoo News
Image: Hello Beautiful