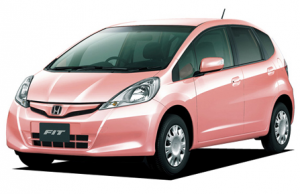 Around the world, building and designing cars remains a male-dominated business, and many companies live by an old axiom that women will buy a man's car but men won't buy a woman's car. While a few companies have attempted to bend that rule, only Honda has chosen to embrace it with the Honda Fit She's — the only model built by an automaker today aimed exclusively at women. Hope you like pink, ladies.
'Lots of pink'
Launched this summer, the Honda Fit She's designers say they wanted to take a regular Fit subcompact and make it in their words "adult cute." That means lots of pink: Pink stitching in the seats and steering wheel and floor mats, matched by pink metallic bezels around the shifter and displays. There's also a few extra shades of pink in the special She's badge, spelled with a heart for an apostrophe.
If pink isn't a customer's style, Japanese buyers can also select a Fit She's in shades of brown and white that a Honda executive told the Yomuri Shinbun newspaper match the color of eyeshadow.
'Not just skin deep"
To Honda's credit, the Fit She's beauty treatment isn't just skin deep. It also comes with special windshield glass that cuts 99 percent of ultraviolet rays and a "Plasmacluster" air conditioning system that Honda claims can improve a driver's skin quality, all aimed at stopping those wrinkles that turn adult cute into just adult.
With a starting price of $17,500, the Fit She's got an attractive price for a home-market Japanese car — but automakers wouldn't need special editions if taking advice from women wasn't such a noteworthy event.
Ladies, what do you think of the Honda Fit She's? Do you think this model will be a hit in the market?
Image: Goo-Net Exchange