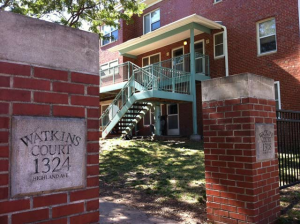 A Kansas City, Mo., mother is behind bars, accused of keeping her 10-year-old daughter locked in a closet, not letting her come out to eat, sleep or even go to the bathroom.
The girl weighed just 32 pounds, and hospital records indicated that she has only gained 6 pounds since she was 4 or 5 years old, according to a police probable cause statement. The girl also suffers from "multiple healing skin injuries and failure to thrive," the statement said.
Kansas City police met Missouri Children's Division workers outside the apartment building Friday morning after the division received a hotline call about a girl who was locked up and unable to eat or use the restroom. When a division worker told two women outside the apartment that three children lived in the apartment, the neighbors said they had never seen the third child even though they'd lived there for "several years."
Officers learned the mother, Jacole Prince, 29, was out with her two younger children, but maintenance let law enforcement inside, according to the probable cause statement. The second floor smelled strongly of urine, and when officers noticed a crib pushed against a closet door that was tied off with rope, they asked, "Is anyone in here?" A child's voice answered, "Yes."
That night, police arrested the girl's mother and her boyfriend. The mother allegedly admitted to locking her child up in part because she knows she would get in trouble if anyone saw how malnourished the girl had become, according to the statement. Her boyfriend denied knowing the mother ever locked the 10-year-old in a closet. The girl's mother was charged with assault in the first degree, child abuse, and endangering the welfare of a child in the first degree, according to the criminal complaint. All three charges are felonies.
Do you know of other situations similar to this? Do you think this mother has some sort of psychological problem?
Image: KFBS 12