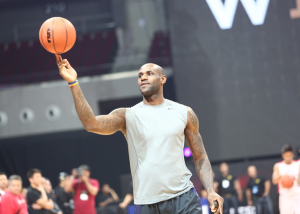 Once upon a time, LeBron James' hairline retreated like a scared defender hoping to avoid a cameo on LeBron's next poster. His forehead was a buffet on which dishes of snark were served. But no more.
'Excess of empty space'
While The King was in the Philippines for Nike's "Witness History Tour," Business Insider's Cork Gaines noticed he was sporting a full head of, well, absolutely nothing.
LeBron, 28, has been battling a receding hairline for awhile now. Inevitably, not even his headbands were enough to bridge the gap between his eyebrows and the onset of his fade. And when his trusty tiara went missing, we were blinded by the excess of empty space it left in its stead.
'All natural'
For some reason, submitting to the absence of hair altogether just works. Going all natural is in, as it no longer seems like LeBron is trying too hard to cover it up. And it's fitting that he would slay his hairline now, during a "Witness History Tour." The change certainly leaves us a witness to history.
Do you like LeBron James' new hairstyle, or rather, the lack thereof? Or do you prefer the receding hairline? Feel free to share your thoughts and opinions with us via the comment box below!
Source: Dan Favale | Bleacher Report
Image: Sole Collector