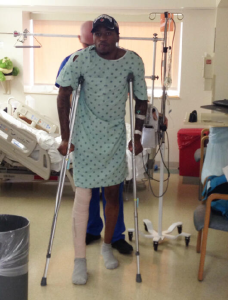 In one of the more gruesome injuries you will see on a basketball court, Louisville guard Kevin Ware severely fractured his leg in Sunday's Elite Eight game against Duke. Ware wants the world to know he'll be fine.
'I never watched the replay'
ESPN's Dana O'Neil has the latest from Ware:
'Hopefully I'll be back in time to watch practice,' Ware told ESPN.com by phone on Monday. 'It hurts but I'll be fine. I'll be fine…'

'…I jumped and my leg felt kind of funny,' he said. 'When Coach P tried to help me up, he gave me a funny kind of look. I'm looking at him and then I look down and I see my bone sticking out. It wasn't a hurt feeling. I just went into shock. In the moment, you don't know what's wrong with you. You're just looking, thinking, 'How did this happen?' I never watched the replay. I never want to.'

…



'Never back down for a challenge'
'Seeing Chane [Behanan] cry as hard as he ever cried, and Russ [Smith], coach, all of them, I just looked at Coach P and said, 'You gotta pull yourself together. Tell the guys to come over here,' Ware said. 'They came over and they were still emotional but I meant it. I told them, 'Don't worry about me. I'll be fine.' I just had to block the pain out and put my situation on hold. I never back down for a challenge and to me, that's what this is. Just another challenge. I'll get through it. I wanted them to know that…'
Kevin Ware is already out of bed and using crutches to get around his hospital room. His teammates celebrated the team's advancement to the Final Four with him at the hospital.
Do you think Kevin Ware will be able to recover from his leg fracture within a year? Was it a good idea to NOT watch the replay of his injury?
Source: Rob Goldbert, Bleacher Report
Image: Breaking News