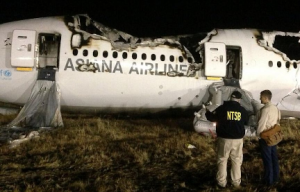 Asiana Airlines says it will proceed with its planned lawsuit against an Oakland, California, television station, but it's not going to pursue legal action against the National Transportation Safety Board.
'Inaccurate and offensive'
Over the weekend, the Korean airline had said it would sue both entities after an intern at the NTSB mistakenly confirmed "inaccurate and offensive" names as those of the pilots of Flight 214, which crash-landed nine days ago at San Francisco International Airport. The bogus names that phonetically spelled out phrases such as "Something Wrong" and "We Too Low" were read during KTVU's noon broadcast Friday. The airline called the report "demeaning" and said it was "reviewing possible legal action."
On Monday morning, the airline seemed to have a partial change of heart, at least concerning the NTSB. Airline spokesman Na Chul-hee said Asiana has retained a U.S. law firm to file a defamation claim against the TV station. But, he said, the company didn't have plans to file a separate suit against the NTSB.
'Erroneously confirmed'
The NTSB apologized for the "inaccurate and offensive" names, which it said were erroneously confirmed by a summer intern. A government official with knowledge of the situation said Monday the intern is no longer with the agency. It was not immediately clear who produced the fake names, but the NTSB said it was not the intern. The NTSB said it does not release or confirm the identities of crew members or other people involved in transportation accidents.
Asiana Flight 214 was carrying 291 passengers and 16 crew members when it crash-landed on July 6 on the runway after striking a seawall. Three passengers died, including a girl who died of her injuries Friday morning. More than 180 others were injured.
Do you think the pilot involved in this accident didn't have sufficient experience in flying the said plane? Who do you think gave those fake names? Feel free to share your opinion with us!
Source: Yoonjung Seo and Ashley Fantz | CNN
Image: ABC News