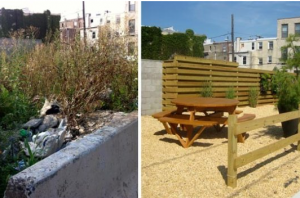 A business developer in the Philadelphia neighborhood of Point Breeze is facing legal action after voluntarily cleaning up more than 40 tons of trash from a vacant lot neighboring his local business.
As the old adage goes, no good deed goes unpunished. Ori Feibush says he visited the local offices of the Philadelphia Redevelopment Authority four times, sent in seven written requests and made 24 phone calls to the agency asking them to take care of a major eyesore: an empty lot next to his coffee shop was home to more than 40 tons of debris. Not only did the agency fail to act but it also denied Feibush's offer to clean up the mess himself.
But the Daily News reports that Feibush went ahead with his plans anyway, reportedly spending more than $20,000 of his own money not only to remove the trash but also to level the soil; add cherry trees, fencing and park benches; and repave the sidewalk. However, the city agency was less excited, demanding that Feibush return the vacant lot to its previous condition and saying it is considering legal action against him.
In theory, he committed a good deed, investing his own time and money to improve the condition of his neighborhood when city authorities refused to step up to the plate. But he also knowingly did so after the city refused his request to intervene.
Supporters of Feibush have started a petition over at Change.org asking the city to "thank" him rather than considering legal action against him.
Was Ori Feibush really in the wrong and now deserves to be sued for cleaning up a property that does not belong to him? OR should the city just brush it off and thank him?
Source: Yahoo News
Image: 1050 AM