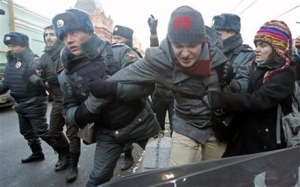 Kissing his boyfriend during a protest in front of Russia's parliament earned Pavel Samburov 30 hours of detention and the equivalent of a $16 fine on a charge of "hooliganism." But if a bill that comes up for a first vote later this month becomes law, such a public kiss could be defined as illegal "homosexual propaganda" and bring a fine of up to $16,000.
'Opposed to Western liberalism'
The legislation being pushed by the Kremlin and the Russian Orthodox Church would make it illegal nationwide to provide minors with information that is defined as "propaganda of sodomy, lesbianism, bisexuality and transgenderism." It includes a ban on holding public events that promote gay rights. St. Petersburg and a number of other Russian cities already have similar laws on their books.
The bill is part of an effort to promote traditional Russian values as opposed to Western liberalism, which the Kremlin and church see as corrupting Russian youth and by extension contributing to a wave of protest against President Vladimir Putin's rule. Other laws that the Kremlin says are intended to protect young Russians have been hastily adopted in recent months, including some that allow banning and blocking web content and print publications that are deemed "extremist" or unfit for young audiences.
'Homosexual propaganda'
Russia's widespread hostility to homosexuality is shared by the political and religious elite. Lawmakers have accused gays of decreasing Russia's already low birth rates and said they should be barred from government jobs, undergo forced medical treatment or be exiled.
Those behind the bill say minors need to be protected from "homosexual propaganda" because they are unable to evaluate the information critically.
"This propaganda goes through the mass media and public events that propagate homosexuality as normal behavior," the bill reads.
What is your view regarding this Russian bill against "homosexual propaganda." Are you for or against it?
Source: Mansur Mirovalev, Yahoo News
Image: The Big Story