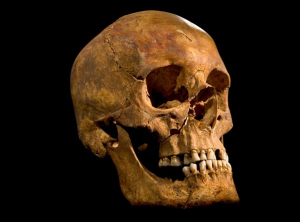 British scientists announced Monday they are convinced "beyond reasonable doubt" that a skeleton found during an archaeological dig in Leicester, central England, last August is that of the country's King Richard III, who was killed at the Battle of Bosworth Field in 1485.
'Hunchbacked villain'
Mitochondrial DNA extracted from the bones was matched to Michael Ibsen, a Canadian cabinetmaker and direct descendant of Richard III's sister, Anne of York, and a second distant relative, who wishes to remain anonymous.
Experts say other evidence — including battle wounds and signs of scoliosis, or curvature of the spine — found during the search and the more than four months of tests since strongly support the DNA findings — and suggest that history's view of the king as a hunchbacked villain may have to be rewritten.
'Humiliation injuries'
The skeleton was discovered buried among the remains of what was once the city's Greyfriars friary. After centuries of demolition and rebuilding work, the grave's exact location had been lost to history, and there were even reports that the defeated monarch's body had been dug up and thrown into a nearby river. The remains will be reburied in Leicester Cathedral, close to the site of his original grave, once the full analysis of the bones is completed.
Archaeologists say their examination of the skeleton shows Richard met a violent death: They found evidence of 10 wounds — eight to the head and two to the body — which they believe were inflicted at or around the time of death. Bioarchaeologist Jo Appleby said there were also signs that Richard's corpse was mistreated after his death, with evidence of several "humiliation injuries," which fitted in with historical records of the body being displayed, naked, in Leicester before being laid to rest.
With the recent discovery and confirmation of King Richard III's skeleton, should history be rewritten to change the view of him as a "hunchbacked villain"? Feel free to share your thoughts on this topic!
Source: Bryony Jones, CNN
Image: National Geographic