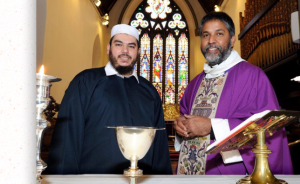 On a bitterly cold and snowing afternoon in Aberdeen, the doors of St John's Episcopal Church are open to hundreds of Muslim worshippers, arriving for daily prayers.
The familiar sounds of Christian hymns have been replaced with Islamic prayer in the chapel this Friday lunchtime and the church priest with the imam from the neighbouring mosque. Muslims from the Syed Shah Mustafa Jame Masjid mosque next door share this church with Christian worshippers up to five times a day.
'True to his faith'
The rector at St John's has opened his doors to Muslims because there was not enough space for them to pray in their own mosque and many were forced to worship outside on the street.
The Reverend Isaac Poobalan, who grew up in Southern India surrounded by Islam, said he would not have been true to his faith if he did not help his neighbours.
Reverend Poobalan adds: "I felt very distressed when I saw my neighbours praying out in the cold and I knew I needed to do something to help… I know I cannot solve the world's problems, but when there is a problem I can solve, I will."
'Respect each other'
Reverend Poobalan asked his congregation for permission to open the church doors to Muslims. At first, Muslims were reluctant to accept the invite, but they have now settled in well into their new home.
Christians believe Jesus is the son of God, while Muslims regard him as a prophet. But despite these differences, there does not seem to be any tension in St John's Church, with both faiths having learnt to respect each other.
What can you say about this prayer and worship setup between Christians and Muslims? Feel free to share your thoughts with us!
Source: BBC News
Image: Salam World