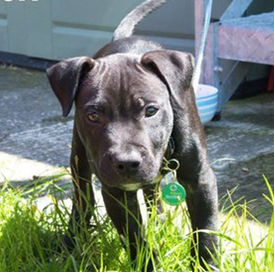 Despite a global outcry from animal rights activists, a dog was put to sleep in Belfast, Northern Ireland, on Wednesday because city officials said he looked like a pit bull.
The 7-year-old pug-nosed dog, Lennox, was at the center of a two-year legal battle between his owners and the Belfast City Council. The city's dog wardens seized Lennox in 2010, claiming he was a dangerous "pit bull-type dog," according to The Associated Press. Pit bulls are illegal in the United Kingdom. Lennox's owners argued he was not only not dangerous—he was not even a pit bull. In court, Lennox's owner Caroline Barnes said the dog had never bitten anyone, but that she would muzzle him around strangers.
The case sparked outrage among animal rights groups, inspiring a "Save Lennox" campaign and an online petition that collected more than 200,000 signatures. Some people—including celebrity dog trainer Victoria Stilwell—offered to adopt the dog in the United States, where pit bulls are legal. But last month, a senior appeals court in Northern Ireland upheld a lower court ruling that called for Lennox to be put down.
On Tuesday, Lennox's owners released a statement on their Facebook page, saying they were denied the opportunity to "say goodbye":
We would like to take this opportunity to thank you all again for your messages of support. We are sorry to say at the present time Belfast city council seem to be intent on killing our boy. Despite previous assurances otherwise, we have been denied the opportunity to say goodbye. We have also been told that we cannot collect his body and bring Len home. We have been informed however that we will receive "some" ashes in the mail.
What is your opinion regarding the Belfast Council's decision to euthanize poor Lennox? Did the dog deserve to die just because he resembled a pit bull? Share your opinions with us!
Image: Channel 4 News