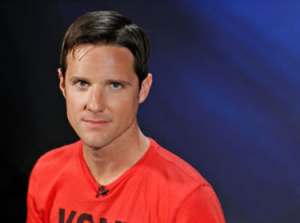 Within just over a week, Jason Russell went from becoming an overnight sensation for his viral KONY 2012 video to being detained for a lewd and seemingly drunk public act to being hospitalized.
In fact, the Invisible Children co-founder will "remain under hospital care for a number of weeks," his wife Danica Russell said in a statement Wednesday. "The recovery process could take months." On March 15, Russell, 33, was found wearing only his underwear and was allegedly masturbating and vandalizing cars in San Diego. But his wife says that her husband's incident "was in no way the result of drugs or alcohol in his body."
"The preliminary diagnosis he received is called brief reactive psychosis, an acute state brought on by extreme exhaustion, stress and dehydration," says Danica. According to doctors Jason's overnight celebrity led to the apparent breakdown.
"[They] say this is a common experience, given the great mental, emotional and physical shock his body has gone through in these last two weeks," she explains. "It's hard to understand the sudden transition from relative anonymity to worldwide attention – both raves and ridicules, in a matter of days."
Although Danica says her husband "will get better," she admits, "he has a long way to go," and says his role with Invisible Children will be put on hold until he recovers.
Source: People
Image: Dangerous Minds