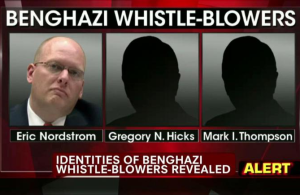 Their identities have been a well-guarded secret, known only to their high-powered lawyers and a handful of House lawmakers and staff. But now Fox News has learned the names of the self-described Benghazi "whistle-blowers" who are set to testify before a widely anticipated congressional hearing on Wednesday.
'Series of requests'
Appearing before the House Oversight and Government Reform Committee will be three career State Department officials: Gregory N. Hicks, the deputy chief of mission at the U.S. Embassy in Libya at the time of the Benghazi terrorist attacks; Mark I. Thompson, a former Marine and now the deputy coordinator for Operations in the agency's Counterterrorism Bureau; and Eric Nordstrom, a diplomatic security officer who was the regional security officer in Libya, the top security officer in the country in the months leading up to the attacks.
U.S. Ambassador Christopher Stevens and three other Americans were killed in the Sept. 11, 2012, attacks on the U.S. outpost in Benghazi, Libya. At last fall's hearing, Nordstrom made headlines by detailing for lawmakers the series of requests that he, Ambassador Stevens, and others had made for enhanced security at the U.S. consulate in Benghazi in the period preceding the attacks, requests mostly rejected by State Department superiors.
'Threats and intimidation'
Rep. Jason Chaffetz, a Utah Republican and committee member, said Hicks was in Tripoli at 9:40 p.m. local time when he received one of Stevens' earliest phone calls amid the crisis. Chaffetz, who subsequently debriefed Hicks, also said the deputy "immediately called into Washington to trigger all the mechanisms" for an inter-agency response.
The lawyers said their clients believe their accounts of Benghazi were spurned by the Accountability Review board (ARB), the official investigative body convened by then-Secretary of State Hillary Clinton to review the terrorist attacks, and that the two employees have faced threats and intimidation from as-yet-unnamed superiors.
What is the real story behind the Benghazi attack? Was there a cover up?
Source: James Rosen, Chad Pergram, Fox News
Image: Fox News Insider