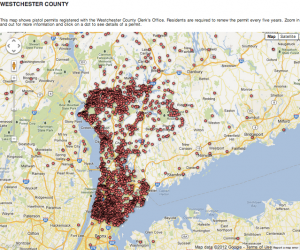 An interactive map showing the names and addresses of all handgun permit holders in New York's Westchester and Rockland counties has infuriated many readers since it was posted Saturday on a newspaper's website.
'Publicly available information'
The map, published by The Journal News, allows readers to zoom in on red dots that indicate which residents are licensed to own pistols or revolvers. It had prompted more than 1,700 comments as of Wednesday morning. Blue dots indicate permit holders who "have purchased a firearm or updated the information on a permit in the past five years."
Some of those responding threatened to cancel their subscriptions or boycott the publication. The paper's publisher, Janet Hasson, president of the Journal News Media Group, defended the decision in a statement Wednesday.
"One of our roles is to report publicly available information on timely issues, even when unpopular. We knew publication of the database (as well as the accompanying article providing context) would be controversial, but we felt sharing information about gun permits in our area was important in the aftermath of the Newtown shootings," she said.
'Prompt burglaries'
The map came about in the wake of the massacre in Newtown, Connecticut, The Journal News said. The names and addresses of the two counties' permit-holding residents were obtained through the Freedom of Information Act.
Still, hundreds of residents were shocked to see their information posted without their being notified. Some said the map would prompt burglaries because thieves are now aware of where weapons might be found. A great majority of readers commenting at CNN.com were opposed to the newspaper's move, but some defended it on the grounds that the public has a right to know who might own weapons.
What is your stand with regards to gun control policy? Do you think it was improper for The Journal News to publish the information of gun owners online?
Source: KC Maas and Josh Levs, CNN
Image: You Viewed