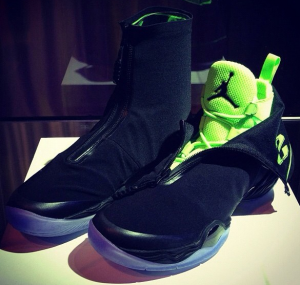 Since Michael Jordan signed with Nike at the beginning of his illustrious career, his signature Air Jordan shoes have redefined the world of athletic footwear.  On Monday afternoon, Nike and Jordan Brand released their latest incarnation, the Jordan XX8 (aka 28, for those of you don't recognize both Roman and Arabic numerals in the same construction) at an event in New York City.
'Black rain overshoe'
As you can see in the photo, it's a bold design that's already generating controversy. From the outside, the sneaker looks something like a black rain overshoe, with a zipper that encloses the entire inside. Underneath, however, the dominant color is a distinct neon green.
The shoes, devised by legendary Nike designer Tinker Hatfield over the course of two years, retail for a cool $250 and will make their NBA debut on Tuesday night when Russell Westbrook of the Oklahoma City Thunder plays against the Nets in Brooklyn.
'Ugliest thing ever'
At a very basic level, this shoe could be the ugliest thing ever — some might say it is — and still be valuable as a great product for basketball players. By all hands-on accounts, the shoe is startlingly light,  which is good news for athletes from the heights of the NBA to random Wednesday night pickup games. If it proves to be a great performance shoe, then people will wear them. Heck, the simple fact that they're Air Jordans might even be enough for people to buy them.
So, there are two ways to wear the Jordan XX8: 1) on the court, where it looks like a pretty dull black basketball shoe (or this $73.99 overshoe) and 2) off the court, where it only holds interest if worn in an affected manner. If a piece of forward-thinking clothing ideally mixes form and function so that the two are virtually indistinguishable, then this sneaker seems like a misstep. Perhaps new versions of shoe, teased by Hatfield at the launch event, will improve it.
Do you like the newly launched Air Jordan XX8? Would you care to wear it on or off court?
Source: Yahoo Sports