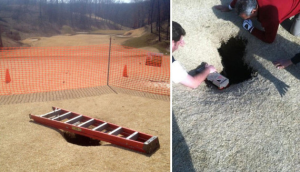 The St. Louis Post-Dispatch reports 43-year-old Mark Mihal was golfing with buddies at Annbriar Golf Course in Waterloo, Ill. when he suddenly disappeared into the ground, falling into a hole that measured roughly 18 feet deep and 10 feet wide.
'Sudden and bizarre occurence'
Fortunately, Mihal was in good spirits despite dislocating his shoulder. He described the sudden and bizarre occurrence: "I was standing in the middle of the fairway. Then, all of a sudden, before I knew it, I was underground."
Mihal's buddy then called the pro shop for help. General manager Russ Nobbe came in a hurry with what I would assume is the embarrassment of having your course eat people alive.   With the help of a ladder, some rope and good ol' fashioned American ingenuity, the rescue only took about 20 minutes.
'Unfortunate soul'
A geologist, Philip Moss, came to inspect the hole and offered that sinkholes are usually visible, but Mihal was just that unfortunate soul who "was in the wrong place at the wrong time."
While the course is in Illinois, Moss went on to say sinkholes are relatively common in the St. Louis area, because the city sits on bedrock made of limestone that dissolves in rainwater.
Have you ever had a sporting experience as bizarre as this? Share your own "sinkhole" stories with us!
Source: Gabe Zaldivar, Bleacher Report
Image: Gamedayr