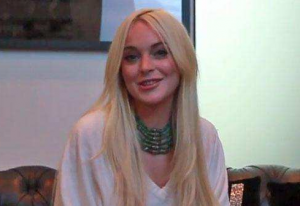 It's not easy being Lindsay Lohan.  Even when she's behaving, she gets in trouble.  Most recently, it was accusations that she pulled a hit-and-run, which she adamantly denied.
It seems like drama follows her everywhere she goes, but this chick is finally on the right track and doesn't want to take any chances.  It would SUCK if she screwed up right before her probation is scheduled to end.  So what is she doing? Lindsay Lohan is staying in her home until her probation is over!
Perez Hilton says that some close friends gave her the advice, which is a good idea considering that her next scheduled court date is right around the corner on March 29th.  She's almost done with her probation, so she's going to play it safe until then and ONLY leave the house when it's absolutely vital.
Dirt thinks that this is a fantastic idea, and so totally proactive of her!  What a great step forward for her to take, and all on her own, no less.  What a champ!  We're super proud of you, Linds.  Way to take care of business like an adult. Keep up the great work, girlie!
Source: Dirt
Image: On the Red Carpet