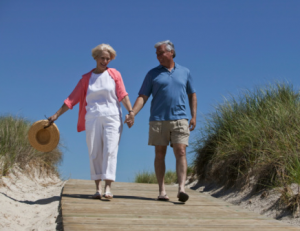 Did you know that every minute you walk can extend your life by 1.5 to 2 minutes? In addition, many studies show that people who walk regularly live longer, weigh less, have lower blood pressure, and enjoy better overall health than non-walkers. Here's a look at five benefits of walking.
Walking Increases Your Lifespan
Walking more than an hour a day improves life expectancy significantly, a 2011 study showed. The researchers looked at 27,738 participants between the ages of 40 and 79 over a 13-year period. Surprisingly, their lifetime medical costs did not increase—even though they lived longer.
Walking Keeps Your Mind Sharp
Walking 72 blocks a week (around six to nine miles) helps increase grey matter, which in turn lowers the risk of suffering from cognitive impairment—or trouble with concentration, memory and thought, according to a study which looked at 299 seniors over a nine-year period.
Walking Helps Lower Blood Pressure
Walking just 30 minutes a day, three to five days a week—even when the 30 minutes are broken into three ten-minute increments—has been found to significantly lower blood pressure.
Walking Improves Your Mood
Just thirty minutes on a treadmill reduces feelings of tension and depression, according toresearch published in the British Journal of Sports Medicine. In fact, the study found that walking lifted moods more quickly than anti-depressants did (and with fewer side effects).
Walking Improves Insomnia
Try taking a brisk 45-minute walk in the morning five days a week, and your sleep may improve significantly, according to research from the Fred Hutchinson Cancer Research Center in Seattle, which looked at women from the age of 50-74.
How often do you take brisk walks? What other health benefits can one get from walking? Do share your thoughts and opinions on this topic!
Image: Insiders Health