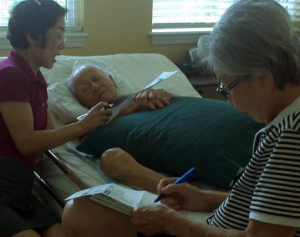 A photograph of a 93-year-old Second World War veteran casting what will likely be his last ballot has captured the hearts of tens of thousands of Internet users.
'True patriotism'
The photo shows Frank Tanabe lying in a hospital bed at home as his daughter Barbara Tanabe helps him fill out his absentee ballot. A half-million people saw the picture on the website Reddit after his grandson posted it there on Thursday, making it one of the most popular items on the social media network for a day after.
"True Patriotism," was the top rated comment on the post. "This is America. Amen," was next, followed by "Thank you, Citizen."
Doctors diagnosed Tanabe with an inoperable cancer tumour in his liver two months ago. He's been in hospice care for the past three weeks at his daughter's home. His condition has been deteriorating, and he's been speaking little lately. He's been determined to vote regardless, eagerly asking when the ballot would be arriving in the mail, his daughter said.
'Encouraged others to vote'
Barbara Tanabe read aloud the names of the candidates to her dad. He either nodded "yes" to the names or shook his head "no." She filled in the boxes on his behalf, following his instructions even when he didn't pick the people she wanted.
Noah Tanabe, the grandson who posted the photo online, said he thinks about his grandfather every time he votes. The family has been surprised and gratified by the online comments on the photo, Barbara Tanabe said. She said her father, a quiet, unassuming man, would wonder what the fuss over the photo was about. But he'd be thrilled it encouraged others to vote, she said.
Did Frank Tanabe's photo touch your heart? Tell us — who are you going to vote for?
Image: Winnipeg Free Press