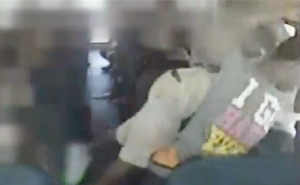 A viral video showing the beating of a 13-year-old white boy by three African-American youths in Florida has left hundreds of thousands of viewers horrified, but critics say the case doesn't seem to be attracting much sympathy from self-styled civil rights activists.
'Beat this boy to death'
In the chilling video, three 15-year-old boys repeatedly beat and kick a victim police said was left with a broken arm and two black eyes.
The bus driver, 64-year-old John Moody, can be heard frantically calling a radio dispatcher for help, although he was criticized in some quarters for not physically intervening.
"No, you've got to get somebody here quick, quick, quick," Moody pleads on his phone as the assailants take turns landing windmill punches and vicious kicks on the cowering victim. "They about to beat this boy to death over here."
'Aggravated battery'
The attack took place July 9 in the St. Petersburg-area community of Gulfport. But the horrific cell phone and surveillance video only came out recently. Police say the three youths, all African-American, attacked the boy after he told officials at their dropout prevention school that one of them had tried to sell him marijuana.
Moody stopped the bus, and police said the suspects used the emergency exit of the bus to escape. Joshua Reddin, Julian McKnight, and Lloyd Khemradj, all 15 years old, were arrested a short time later. All three were charged with aggravated battery and have since been released. Reddin is also charged with unarmed robbery.
Do you think the bus driver should have stepped in to defend the victim? And what about the other passengers? Tell us your thoughts about this incident. Let your voice be heard via the comment box below!
Source: Fox News
Image: Our Weekly