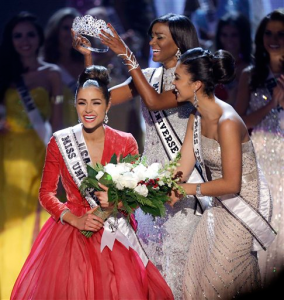 A 20-year-old beauty queen from Rhode Island was crowned the new Miss Universe on Wednesday, beating out 88 other women during a televised competition at the Planet Hollywood casino on the Las Vegas Strip. Olivia Culpo took the crown from Leila Lopes of Angola after strutting in a purple and blue bikini and a red velvet gown.
'End a long losing spell'
In the final stages of the competition, she answered a question about her regrets by saying she wished she hadn't picked on her siblings. Miss Philippines, Janine Tugonon, came in second, while Miss Venezuela, Irene Sofia Esser Quintero, placed third. Contestants from 89 countries on six continents spent the past two weeks in Sin City, where they posed in hardhats at a hotel groundbreaking, took a painting lesson, and pranked hotel guests by hiding in their rooms.
Culpo, from Rhode Island, was trying to end a long losing spell for the U.S. in the competition. An American had not won the right to be called Miss Universe since Brook Lee won the title in 1997. The contestants voted to give the Miss Congeniality crown to Miss Guatemala.
'Undisclosed salary'
Andy Cohen of the Bravo network and Giuliana Rancic of E! News returned to host the pageant, which was back in Las Vegas after being held in Sao Paulo last year. The panel of 10 judges included singer Cee Lo Green, "Iron Chef" star Masaharu Morimoto and Pablo Sandoval of the San Francisco Giants.
Contestants in the pageant cannot have been married or have children. They must be younger than 27 and older than 18 by Feb. 1 of the competition year. The winner of the crown receives an undisclosed salary, a wardrobe fit for a queen, a limitless supply of beauty products, and a luxury apartment in New York City.
The pageant started as a local revue in Long Beach, Calif., organized by Catalina Swimwear. It is not affiliated with the Miss America pageant and unlike that contest, does not include a talent section.
Are you happy with the result of the Miss Universe 2012 pageant? Which contestant were you rooting for?
Source: Associated Press, Fox News