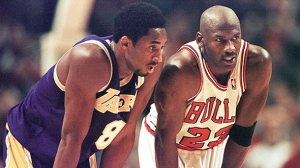 Phil Jackson finally caved. The Zen Master spent the better part of his 11 seasons with the Los Angeles Lakers dodging Kobe Bryant and Michael Jordan comparisons. Now, he is indulging in them.
'Charismatic and gregarious'
In his new memoir, co-written with Hugh Delehanty and entitled Eleven Rings: The Soul of Success, Jackson breaks down what separated the Black Mamba from His Airness. Mike Bresnahan of the Los Angeles Times received an early release of the book and detailed some of the more notable excerpts.
"Michael was more charismatic and gregarious than Kobe," Jackson says in the book. "He loved hanging out with his teammates and security guards, playing cards, smoking cigars, and joking around."
That just wasn't Kobe. According to Jackson, he kept to himself—a self-imposed isolation that he attributed to the absence of the collegiate experience.
"But his inclination to keep to himself shifted as he grew older," Jackson explains. "Increasingly, Kobe put more energy into getting to know the other players, especially when the team was on the road."
'The biggest difference'
Still, he was no MJ. Jordan was more convivial and alluring as a person. While Bryant was often considered an emotional recluse, Jordan was a social butterfly. Jackson believed he was better on defense, too.
"No question, Michael was a tougher, more intimidating defender," he said. "He could break through virtually any screen and shut down almost any player with his intense, laser-focused style of defense."
Which isn't to say Kobe was a poor defender. Jackson acknowledges the contrary, but also concedes that Kobe took unnecessary risks and relied too heavily on his athleticism. Mostly, though, he praised Jordan for his patience, for allowing the game to come to him—something Kobe rarely does.
The biggest difference between the two, though? Leadership.
Who do you think is the better player — Michael Jordan or Kobe Bryant? Feel free to discuss your opinion via the comment box below!
Source: Dan Favale, Bleacher Report
Image: The Hoop Doctors