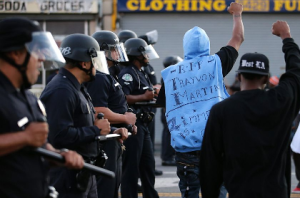 Protesters ran through Los Angeles streets Monday night, breaking windows, attacking people on sidewalks and raiding a Wal-Mart store, while others blocked a major freeway in the San Francisco Bay area in the third night of demonstrations in California over George Zimmerman's Florida acquittal in the killing of Trayvon Martin.
'Vandalism'
Fourteen people were arrested after multiple acts of vandalism and several assaults in Los Angeles' Crenshaw District. One man was seen in the street with a head injury and a TV crew received minor injuries in an assault.
More than 300 officers were called to the scene and were at first slow to directly engage protesters in an attempt to allow a peaceful end to the demonstration, police Chief Charlie Beck told a press conference. But the chief said police would take a much stricter posture in the coming nights.
'Unlawful assembly'
Several hundred mostly peaceful protesters had gathered at Leimert Park southwest of downtown, many of them chanting, praying and singing. But a smaller group of between 100 and 150 people splintered off, blocked traffic on nearby Crenshaw Boulevard, jumped on cars and broke windows at liquor stores and fast food outlets. Several protesters ran into a Wal-Mart store and knocked down displays before store security chased them out. Police began guarding the door.
TV news helicopters showed some people kicking and punching others along the street, including two people sitting on a bus bench. Police declared an unlawful assembly about three hours after it began, and most of the crowd left the street.
What is your reaction to the jury's verdict for George Zimmerman? In your opinion, what should have been the verdict in this case? Feel free to share your thoughts and opinions with us!
Source: Racquel Maria Drilon | Associated Press, Yahoo! News
Image: ABC News