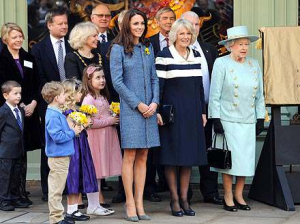 Thursday morning brought a very rare tea party to London's swankiest food store. In attendance, a royal trifecta: The Queen, Camilla and the Duchess of Cambridge (who wore a blue M Missoni coat with a daffodil for St. David's Day) – with all three receiving special Jubilee picnic hampers that included dog treats.
"One thing in common with all the ladies is their love of a hound," says Kate Hobhouse, chairman of the Fortnum & Mason food store, on why the baskets included the venison-flavored dog biscuits, called Hearty Treats for Happy Hounds. "It was a little bit of fun."
The gifts were very well received by the Queen and two future queens. "There was lots of joy, especially over the biscuits," says a royal source, adding, "The [Queen's] Corgis are going to be lucky tonight. They'll be in doggie heaven. Kate's cocker spaniel puppy Lupo was bound to be happy, too.
The three royals were at the Piccadilly store to mark the regeneration of the central London business district, and while they were at Fortnum's they were shown many of the store's posh products.
Thursday's event was the first of two outings the Duchess is having with her grandmother-in-law while husband William is stationed in the Falkland Islands. Next week, she'll be in Leicester for a series of engagements with Her Majesty.
Source & Image: People Magazine