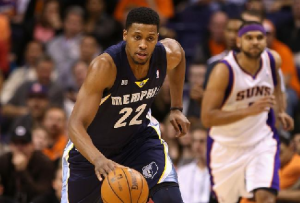 The Memphis Grizzlies and Phoenix Suns are engaged in trade talks centered on forward Rudy Gay, league sources told Yahoo! Sports.
'Interested trade partner'
The Grizzlies have been shopping Gay to multiple teams, and found an interested trade partner with the Suns, sources said. There's no framework of a possible deal in place, but the Grizzlies have expressed a strong desire that any package involving Gay include Suns forward Jared Dudley and future first-round draft picks, sources said.
'Luxury tax'
In an effort to avoid paying luxury tax in the short term, as well as get off the $17.8 million and $19.3 million owed Gay in the 2013-14 and 2014-15 seasons, new Memphis management has aggressively shopped Gay. The Grizzlies have made proposals on Gay to several teams, front-office sources told Yahoo! Sports. Gay will make $16.4 million this year.
The Suns have been mindful of their financial state under Phoenix owner Robert Sarver, and there are still doubts within the organization they will ultimately be able to absorb the remainder of Gay's contract.
Do you think Rudy Gay will be successfully traded to the the Phoenix Suns? Will this trade be a positive or negative change for both teams?
Source: Adrian Wojnarowski, Yahoo Sports