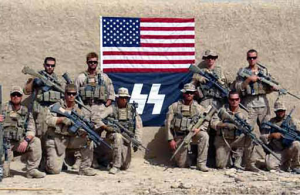 The Marine Corps on Thursday once again did damage control after a photograph surfaced of a sniper team in Afghanistan posing in front of a flag with a logo resembling that of the notorious Nazi SS — a special unit that murdered millions of Jews, gypsies and others.
The Corps said in a statement that using the symbol was not acceptable, but the Marines in the photograph taken in September 2010 will not be disciplined because investigators determined it was a naïve mistake. The Marines believed the SS symbol was meant to represent sniper scouts and never intended to be associated with a racist organization, said Maj. Gabrielle Chapin, a spokeswoman at Camp Pendleton, where the Marines were based.
The Corps has used the incident as a training tool to talk to troops about what symbols are acceptable after it became aware of the photograph last November, Chapin said.
The image has since surfaced on an Internet blog, sparking widespread outrage and calls for a full investigation and punishment, including bringing those in the photograph and anyone who condoned it to court martial. His organization sent a letter to the head of the Marine Corps, Gen. James Amos, and Defense Secretary Leon Panetta on Thursday, demanding punishment for those involved.
The Marines in the photograph are no longer with the unit. Chapin said she did not know if they are still in the Corps.
Source & Image: Yahoo News