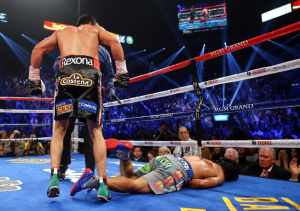 In 2011 when Manny Pacquiao won a tight decision over Juan Manuel Marquez in the third fight between them, Pacquiao's zealous supporters weren't simply content to see their man get a win many experts didn't believe he deserved.
'Foot stomp'
What's bound to set off the Pacquiao fans, though, is trainer Freddy Roach's explanation to  Los Angeles Times' estimable sports columnist Bill Dwyre two months after the fact about why Pacquiao's knockout on December 08, 2012 occurred. In the parlance of the Pacquiao fans, it was the old "foot stomp," Roach said.
"When you have a lefty [Pacquiao] fighting a right-hander [Marquez], you have guys stepping on each other's lead foot more than righty-righty or lefty-lefty.

We were concerned enough about that happening — because it had happened a lot in their other fights, and even could be used as a strategy by Marquez — to ask the referee to come to our dressing room before the fight so we could warn him to watch for that.

But what happened was the opposite, and I didn't see it clearly until later, when I looked at overhead camera shots.



'Off-balance'
Marquez didn't step on Manny's foot. Manny stepped on Marquez's foot. And when Marquez pulled it out, it sent Manny off-balance and forward — right into the perfect right hand.

I wasn't ready for that. I had told Manny, when he steps on your foot, don't pull away. But the other way? I didn't see that coming."
So yes, Pacman fans, foot stomping was the reason that Manny was knocked out. This time, though, it was Pacman who did the foot stomping.
Do you buy Freddie Roach's explanation for Manny Pacquiao's knock-out? Should a fifth bout with Juan Manuel Marquez ensue, which side will you be rooting for — Team Pacquiao or Team Marquez?
Source: Kevin Iole, Yahoo Sports
Image: Business Insider