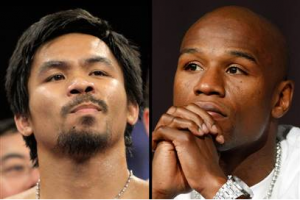 The burden, finally, is fully and entirely on Floyd Mayweather Jr. to make a fight with Manny Pacquiao.
Pacquiao agreed Thursday during appearances on two separate television shows on ESPN to give Mayweather a 55-45 advantage on a financial split should they fight, as the public has been demanding since late 2009. A match between them is expected to be the most lucrative bout in boxing history.
Pacquiao, who meets Juan Manuel Marquez for a fourth time on Dec. 8 in Las Vegas, had been demanding a 50-50 split. Without such a split, he'd said repeatedly over the last 18 months that he would not agree to a fight with Mayweather.
The other major hurdle blocking the fight between the two men regarded by many as the two best in the world was Mayweather's demand for Olympic-style drug testing. Initially, Pacquiao balked at the testing. He has since changed his stance and has said repeatedly over the last year he would fully comply with the tests, just as Shane Mosley, Victor Ortiz and Miguel Cotto have done in Mayweather's last three fights.
If Mayweather raises new objections, then it becomes obvious he's not serious and is playing some sort of game. But at this stage, with the demand for the bout seemingly waning a bit because of all the inaction and drama that has surrounded the talks, it would be a miscalculation for Mayweather to add more conditions. He has spoken of being rated the greatest fighter ever, and to do that, he'd have to beat the best opponent of his era. Without question, for Mayweather, that is Pacquiao.
If Pacquiao does his job and defeats Marquez on Dec. 8, then the fate of a potential Mayweather-Pacquiao fight will rest solely on Mayweather's shoulders. It may be the defining moment of his life.
Do you think Floyd Mayweather will finally agree to fight Manny Pacquiao without adding another condition to the bout? Are you pro-Pacquiao or pro-Mayweather? Tell us which boxer gets your best bet!
Image: SMT Daily