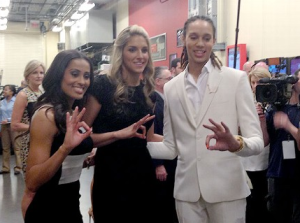 The new era of the WNBA is upon us, as top picks Brittney Griner and Elena Delle Donne have made their respective debuts. Behind a marvelous performance from Delle Donne, the Chicago Sky defeated the Phoenix Mercury by a score of 102-80.
'On fire'
Delle Donne, the second overall draft choice, was on fire, finishing with 22 points, eight rebounds, two assists and four blocks on 9-of-21 shooting from the floor and 2-of-3 from beyond the arc. With Epiphanny Prince going for 26 points, five assists and four steals, Chicago pieced together a season-opening road victory.
Griner, the top selection, overcame foul trouble to finish with a solid stat line of 17 points, eight rebounds and four blocks on 7-of-11 shooting from the field. Unlike Delle Donne, who saw a substantial amount of playing time, Griner was limited to 27 minutes.
'Intimidating defense'
Coming into the WNBA, the No. 1 strength that Elena Delle Donne had displayed is her uncanny ability to create offense. Whether she was taking opponents off the bounce or spotting up for a jump shot, Delle Donne did it all while attending Delaware. It was more of the same in her WNBA debut.
Brittney Griner may not have dominated this game, but she made her mark and proved just how imposing a physical specimen she can be. From her intimidating defense to the surprising ball-handling skills she displayed, Griner is the real deal. That was never more evident than when she stole the ball with roughly two minutes left in the fourth quarter, drove the lane and dunked it so hard that her legs nearly hit the backboard. Moments later, she dropped in a finger roll.
Brittney Griner and the Phoenix Mercury will look to turn their luck around on Sunday, June 2 as they travel to play the Seattle Storm. That game would pit Griner against three-time WNBA MVP Lauren Jackson, but we'll miss that opportunity due to a season-ending injury. Even still, this will be one to watch.
Who do you think is the better WNBA player — Brittney Griner or Elena Delle Donne? Which team are you rooting for?
Source: Max Ogden, Bleacher Report
Image: ESPN